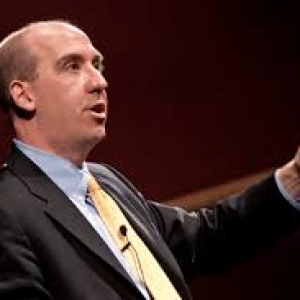 This past April, renowned futurist Jack Uldrich gave a keynote speech at PersoniFest 2016 in Tampa Bay Florida. Uldrich spoke mainly on new technology trends and how businesses today can change what they're doing to help their business grow and more efficient. Uldrich has spent the majority of his recent life advising and helping businesses do just that and his past keynote was no different.

Jack Uldrich is a renowned global futurist, independent scholar, sought-after business speaker, and best-selling author. His books include the best-selling, The Next Big Thing is Really Small: How Nanotechnology Will Change the Future of Your Business, and the award-winning books, Into the Unknown: Leadership Lessons from Lewis & Clarks Daring Westward Expedition and Jump the Curve: 50 Essential Strategies to Help Your Company Stay Ahead of Emerging Technologies. He is also the author of Green Investing: A Guide to Making Money through Environment-Friendly Stocks. His most recent works include Higher Unlearning: 39 Post-Requisite Lessons for Achieving a Successful Future (2011) and Foresight 2020: A Futurist Explores the Trends Transforming Tomorrow (2012).Uldrich is the founder and "chief unlearning officer" of The School of Unlearning, an international leadership, change management, and technology consultancy dedicated to helping businesses, governments, and nonprofit organizations prepare for and profit from periods of profound transformation. Clients include Fortune 100 companies, venture capital firms, and state and regional governments. He is also a regular contributor on emerging technologies and future trends for a number of publications, including The Wall Street Journal, Leader to Leader, The Futurist, Businessweek, The Scientist, CityBusiness, The Futures Research Quarterly, and TechStation Central.Uldrich is a frequent speaker on the technology, change management, and leadership lecture circuits, and has addressed numerous businesses, trade associations, and investment groups around the world, including IBM, Cisco, USAA, General Electric, Wipro, Verizon, General Mills, Pfizer, and the US Chamber of Commerce. He is also a regular guest on CNBC, MSNBC, and CNN.
This past April Jack Uldrich gave the keynote address at the PersoniFest 2016 in Tampa Bay, Florida. Uldrich spoke about how to best use today's technology and the event as always had an amazing turnout. Business leaders got the chance to hear from someone who knows how technology works today and how it may change tomorrow.
If your company is interested in finding out availability and booking fees for a leader in today's technology such as Jack Uldrich or other tech leaders for a Keynote Speech, Product Promotion, Autograph Signing or Personal Appearance, call us at 1-888-752-3532.
Watch Jack Uldrich: The Future is Now: